Sometimes it is hard for young people to start a conversation with seniors. Try talking about food. I did an experiment last week and asked Seniors a simple question: What do you like to put on your toast? Your most favourite! I have posted the results on my mini blog. Here is the answer from Pat (85)
What do you like on your toast, Pat?
Read the entertaining comments following the blog. You are welcome to add your comments too. I asked 2 more seniors the same question - both are in their 80s and passionate about their toast.
Passionate Seniors blog
It is a fun conversation starter for all ages - Give it a try!
Have some homemade jam handy as your guests will want some toast to go with their tea.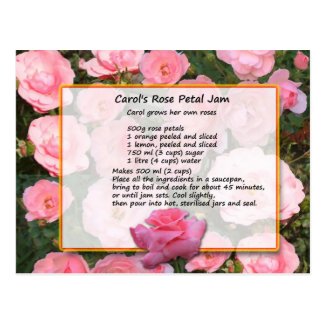 Carol's Rose Petal Jam Recipe Postcard
by
gramabarb
Browse more
Roses Postcards